Triple Crown Store Hours:
Triple Crown Trading is NOW OPEN
Monday thru Saturday 10:00-2:00
We have a limit of 5 customers in the store at one time. Pay with a charge card or PayPal. Curbside pickup is still an option.
Thanks for Shopping!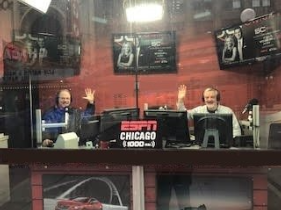 You can click on the radio station photo below to listen to a rebroadcast of the
September 19, 2020 episode of
'Sports Collecting with Tom Morgan'
on Google Podcasts.
You can click on the Triple Crown Trading Company sign below to be taken directly to the tcrowntom eBay store page...
Listen to Sports Collecting with Tom Morgan every Saturday morning from 7-8 cst on Chicago's ESPN1000 radio & the ESPN App