NEW Triple Crown Store Hours:
Triple Crown Trading is CLOSED
until further notice.
Contact: Tom Morgan
tcrowntom@gmail.com
Twitter ID tcrowntom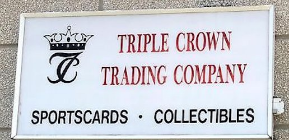 You can click on the Triple Crown Trading Company Sign below to go directly to the tcrowntom eBay Store!
Now In Stock...2020 Topps Inception Baseball, 2020 Panini Stars & Stripes Baseball, 2020 Donruss Hobby Baseball, 2020 Topps Opening Day Baseball, 2019 Topps Update Hobby Baseball, 2019/20 Panini Contenders Draft Basketball, 2020 Leaf Draft Hobby Football, 2020 Leaf Draft Retail Football, 2019 Panini Plates & Patches Football, 2019 Panini Donruss Elite Football, 2019/20 Upper Deck SPX Hobby Hockey, 2019/20 Upper Deck Series 1 Hobby Hockey, 2019/20 Upper Deck Series 2 Hobby Hockey, 2019/20 Upper Deck Artifacts Hockey, 2019/20 Upper Deck O-Pee-Chee Hobby Hockey, 2019 Topps WWE NXT, 2019 Topps WWE Summerslam, 2019 Topps WWE Smackdown & 2020 Game of Thrones Season 8
In accordance with the Shelter in Place order, Triple Crown Trading in Naperville will be
CLOSED until Further Notice. We'll still be selling single cards via eBay.
Thanks for your understanding and for being a Triple Crown customer... and stay healthy!